Through the Ages: A Compilation of Inspirational Poetry, Michaela Sefler. PublishAmerica.com; Baltimore, MD, USA, 2005. 160 pages. $16.95 USD.
review by J. S. Kupperman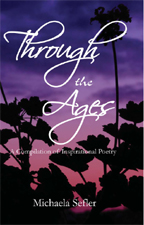 Through the Ages represents one woman's spiritual journey through life. It contains 149 poems, each restrained to a single page, and deals with a wide range of topics that have affected her life. Being a collection of poetry Through the Ages is somewhat difficult to review due not only to the personal nature of much poetry but also due to the personal tastes of the reader.
The poems of Through the Ages clearly reflect the author's own experiences and this is simultaneously enlightening and problematic. The poems show one person's response to life and how their spirituality has helped them cope with both the good and the bad. Such poetry can be uplifting to those who have experienced similar life circumstances for here is a woman who has not only survived them but has thrived. However the poetry is so very personal, leaving those who have not had their experiences wondering at the context of the poems and feeling that in some instances the poems are incomplete or missing some key to their interpretation.
While Through the Ages is certainly going to be inspiring and uplifting to many of its readers many readers of occult poetry by luminaries such as W. B. Yeats or masters such as Shakespeare may feel somewhat disappointed in the poetry's presentation and depth. The work also purports to be inspired by numerous sources including Qabalah, scripture and creation itself. While this might be true in a general way again the reader, especially if looking for a specifically Qabalistic content, may be disappointed as any such content, when present, is typically allusive and relies greatly on the author's own, and Romantic, take on the subject.
Overall, Through the Ages is an interesting and insightful look into the spiritual life of its author. The poetry has moments of beauty and deep insight but also has moments of opaqueness. For those looking for poetry directly inspired by the sources of the Western mystery traditions may wish to look elsewhere. However those looking for poetry of a generally inspirational and spiritual nature may find Through the Ages both uplifting and fulfilling.