Take the JWMT Conference Survey.
We're thinking about a conference! If you are interested please take the survey.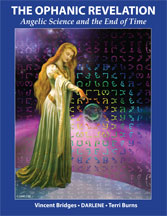 The Ophanic Revelation: Angelic Science and the End of Time
By Vincent Bridges, DARLENE, and Terri Burns
Four hundred years ago, the angels came looking for Dr. John Dee, Queen Elizabeth I's Royal Astrologer and chief intelligencer, with a message and a medium in one. What the angels communicated was a geometrical, symmetry-based, DNA-coded language pattern capable of producing a rapid expansion of consciousness and an increase in symbolic cognition. We can think of this shift in awareness as one from a local primate based consciousness to one that is non-local - that is universal or part of a much larger reality - and based on what we now call plasma physics. The angels, or higher intelligences, communicated this system as a kind of life raft and survival radio set from their awareness that mankind would need a shift in consciousness in order to survive the precessionally timed apocalyptic season that is closing in upon us now.
This book is the first attempt to look at the angelic, or Ophanic, system of Dr. Dee from a multiple viewpoint, using history, science, both physics and biology, as well as art and sacred geometry to explore the unexpected depths of meaning and interconnection in this most unusual communication with what we can only call a higher form of intelligence.
The symmetry ingredients of life itself are embedded in these ancient "angelic calls". At this time when the Sun's plasma may toast our fragile little planet- it seems like a good time to learn how to whisper to that tornado... DNA absorbs the charge if the approach angle of the alphabet letters matches the plasma residue or "shadows" of charge fields… Angelic alphabets call our DNA to embed in longer waves and bigger tornados (plasma storms to stars).
(From the Introduction by Dan Winter.)
The Orphanic Revelation will be available in English from Aethyrea Books and Italian from NewLife Ediziona in May.
Become a Fan!
The JWMT is now on Facebook. For updates and news Become a Fan!
JWMT Forum Announcement.
Keep up-to-date on the happenings at the Journal of the Western Mystery Tradition. Join the JWMT Announcement List today or join the Journal's FaceBook page.
Write To Us.
To write to the staff or any of the contributors, please e-mail us at "pub at jwmt dot org".
Join Us.
If you would like to become a full time contributor to the Journal, click here to join us. Please note that this is not a general discussion forum, it is for the business of the Journal only.
Next Issue:
Bad History! If you are interested in submitting an article, poetry, artwork, rituals, etc., dealing with this subject, please see the submission requirements.