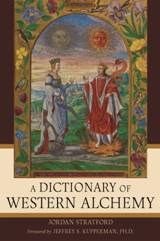 A DICTIONARY of Western ALCHEMY
November 2011 • ISBN 978-0-8356-0897-8 • $17.95 pb • Quest Books • 160 pages
By Jordan Stratford
Magic rites, primitive civilizations, alchemy, the language of flowers, fire, or sleepless nights, are so many stages on the way to unity and the philosophers' stone. – Albert Camus
Now for the first time, a comprehensive guide to all aspects of alchemy and related spirituality is available to the public in a straightforward dictionary that contains the etymology and definition of 480 words along with 280 symbols. A Dictionary of Western Alchemy, by Gnostic priest and Freemason Jordan Stratford, is the result of one seeker's field notes from over 20 years of reading and examining ancient texts.
An amazing storehouse of information, A Dictionary of Western Alchemy focuses on terms related to the history of alchemical ideas rather than the scientific aspect that is more frequently examined. Entries span the alphabet, starting with Ablation: The separation of components in a vessel by skimming to remove the top layer, and concluding with Zodiac: The ring of constellations that mark the progress of the sun as observed from Earth over the course of the year.
With an easy-to-read introduction explaining the history of alchemy and what it means today, Stratford delivers a whirlwind tour through the ancient history of this captivating science.
In A Dictionary of Western Alchemy, readers will learn that all the great scientific contributions to chemistry made before the modern era were made by individuals such as Roger Bacon and Sir Isaac Newton, who referred to themselves as alchemists. On a more philosophical note, however, the alchemists bring a quintessence to the modern chemical laboratory that is as relevant today as ever before.
Jordan Stratford is a poet, priest, and author of books on religion and spirituality. Having received his Licentiate of Sacred Theology with his ordination as a priest in the Apostolic Johannite Church in 2005, he briefly studied the DMin program at Wisdom University but is currently pursuing Doctorate of Ministry Studies at St. Raphael the Archangel Theological Seminary. He has been interviewed in U.S. News & World Report as well as featured on blogs and websites relating to Gnosticism, Esoteric Christianity, Paganism, new religious movements and the Independent Sacramental Movement. He is also the author of Living Gnosticism (Apocryphile Press 2007).
For more information visit: jordanstratford.com & on twitter @jordanstratford
Take the JWMT Conference Survey.
We're still working on this. Look for more news in 2012, just in time for Armageddon! Announcements when they are available on our Facebook page (see below)! In the mean time, if you haven't already done so, please take the survey.
Become a Fan!
The JWMT has it's own FaceBook page! https://www.facebook.com/jwmt.org
Write To Us.
To write to the staff or any of the contributors, please e-mail us at "pub at jwmt dot org".
Join Us.
If you would like to become a full time contributor to the Journal, click here to join us. Please note that this is not a general discussion forum, it is for the business of the Journal only.
Next Issue:
Astrological Magic. The next issue will look at astrological or "astral" magic, including the use of magical images and the symbols of the stars in magical practice. If you are interested in submitting an article, poetry, artwork, rituals, etc., dealing with this subject, please see the submission requirements.