Become a Fan!
The JWMT is now on Facebook. For updates and news Become a Fan!
Inclinations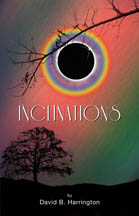 Long time JWMT contributor, David Harrington, is proud to present his first compilation of esoteric poetry: Inclinations. Replete with angels and mythical creatures, Inclinations is a strange and allegorical mixture of poetry and prose. Based on a series of mystical visions, one must know where to interpret the text literally and where to interpret it figuratively. Published by Inner Circle Publishing/Revolution Press, Inclinations is now available at major on-line book retailers.
007
The john007dee.com website, created by webmaster M'ark J. Spaulding, has gone on-line since our last issue. The new site, dedicated to the life and works of Renaissance Magus Dr. John Dee, links to many of the past Journal of the Western Mystery Tradition articles on Dee, Edward Kelley, and Enochian magic, including Vincent Bridge's Angels in the DNA: The Emerald Modem and Dr. Dee's Ophanic Language; Teresa Burns' multi-article series "Shakespeare's Green Garland," which included Francis Garland, William Shakespeare and John Dee's Green Language, Shakespeare's Green Garland Part Two: William Shakespeare, Spy, and a Visit to Trebona, and Concerning Ed. Kelley's Poem; Teresa Burns and Nancy Turner's translation of Theorems 1-17 of John Dee's Monas Hieroglyphica; Burns and J. Alan Moore's The Hieroglyphic Monad of John Dee - Theorems I-XVII: A Guide to the Outer Mysteries; Burns' Dee's The Little Book of Black Venus and the Three-Fold Transformation of Hermetic Astrology; and Burns and Bridge's The Consecrated Little Book of Black Venus part two: Olympic Spirits, the Cult of the Dark Goddess, and the Seal of Ameth.
The new site also features the entire text of many of Dee's manuscripts, including what is as far as we know the only full-text Latin version of Dee's Propaedeumata Aphoristica. It also includes, for the first time anywhere, Liber 1250, which Spaulding describes as "an Enochian Numericon in three parts using Dee's own numerical,or gematric system.
Liber 1250 will be available for purchase, by download or ordering hard copy, sometime in the future. For more information, contact the webmaster at "john007dee at yahoo dot com."
Now in French!
J.S. Kupperman's Sovereignty and Ecology: A Celtic Neo-Pagan Point of View, an article in issue six of the JWMT, has been translated into French and been published in the web magazine Luna Bleue!
JWMT Forum Announcement.
Keep up-to-date on the happenings at the Journal of the Western Mystery Tradition. Join the JWMT Announcement List today.
Write To Us.
To write to the staff or any of the contributors, please e-mail us at "pub at jwmt dot org".
Join Us.
If you would like to become a full time contributor to the Journal, click here to join us. Please note that this is not a general discussion forum, it is for the business of the Journal only.
Next Issue:
Angel Magic If you are interested in submitting an article, poetry, artwork, rituals, etc., dealing with this subject, please see the submission requirements.